Week 8 - COVID Update Chart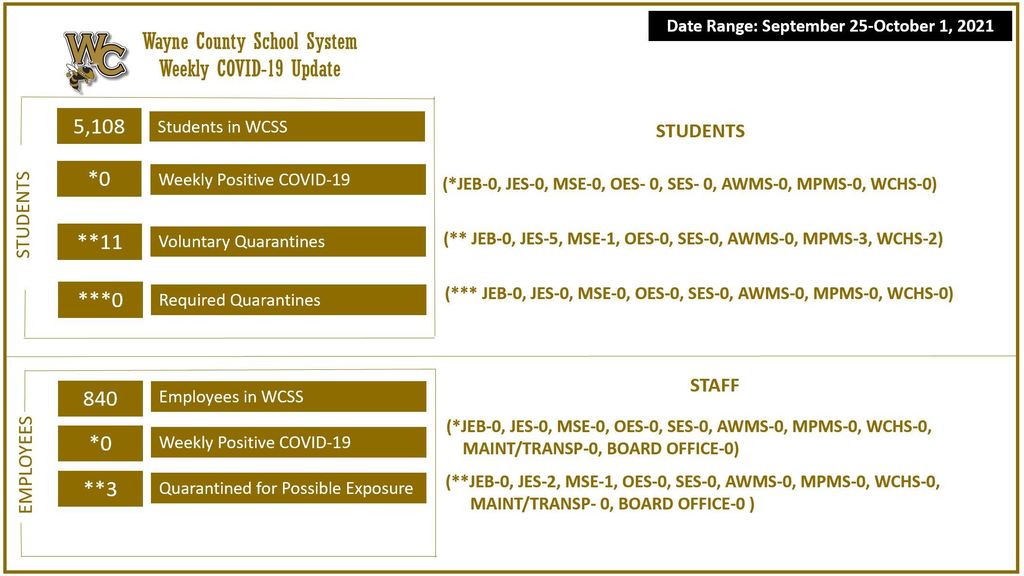 Week 7 - COVID Update Chart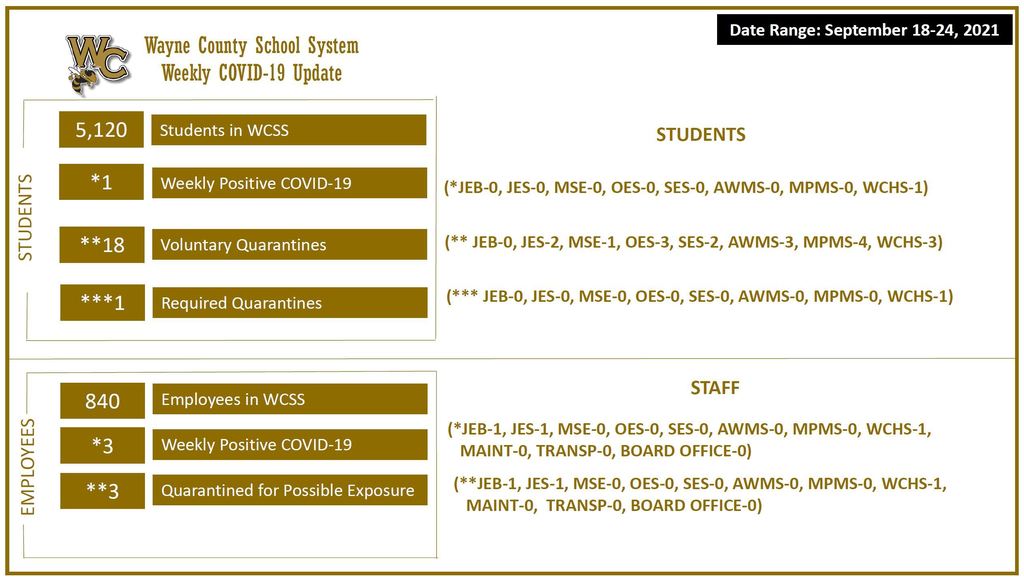 September 21, 2021, 3:22 P.M. With our COVID-19 numbers steadily improving, we will transition to the Targeted Measures model with all students attending school beginning Monday, September 27. The schedule for the remainder of this week is below: • No students in the buildings on Wednesday, September 22 • Students whose household last names begin with letters L-Z will attend in-person learning at all school sites on Thursday, September 23 and Friday, September 24. All students return to in-person learning at all school sites on Monday, September 27.

Week 6 - COVID Update Chart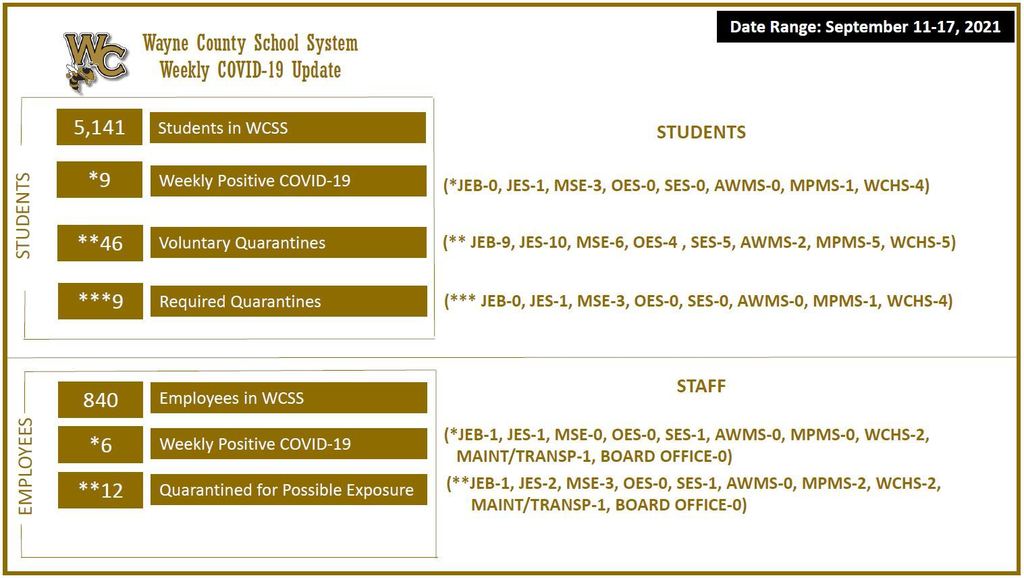 September 15, 2021 Parents/Guardians, In recent days the number of positive COVID-19 cases in our schools has dropped significantly. So that we can see that the numbers are staying at a low level, school operations will remain at the hybrid model through at least Friday, September 24. As soon as possible, a decision will be announced to let you know what school operations will look like from that point forward.

Week 5 - COVID Update Chart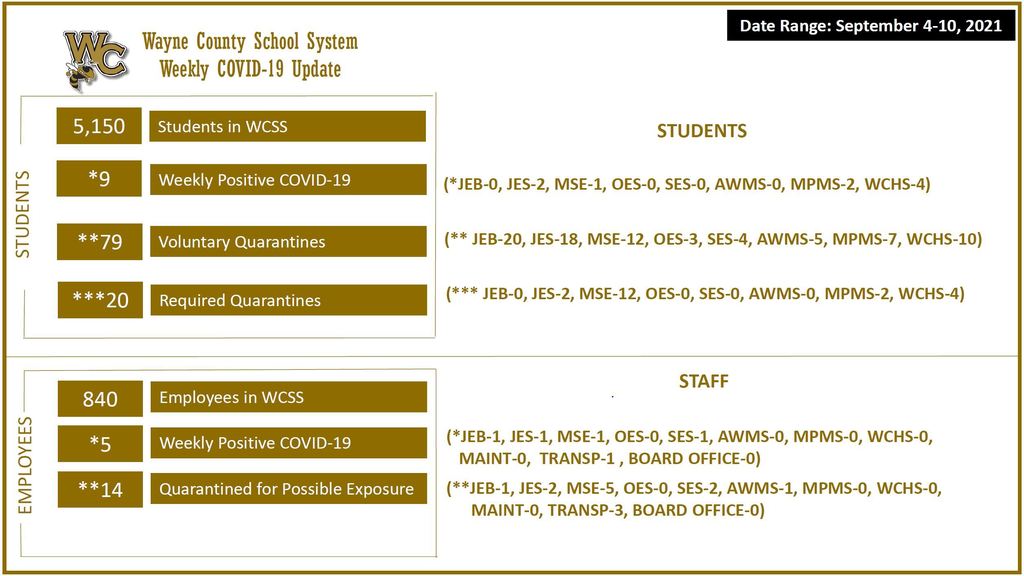 Week 4 - COVID Update Chart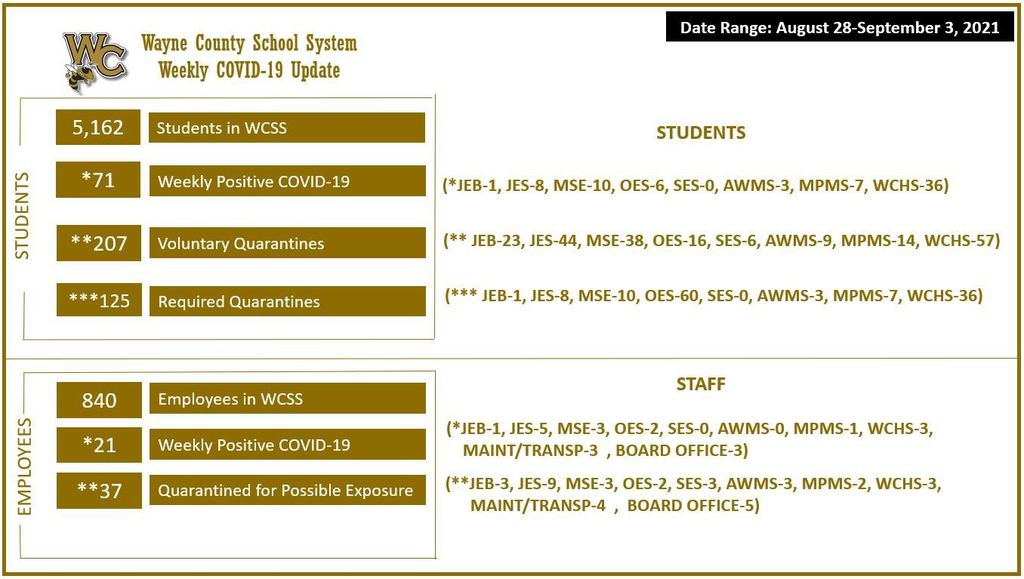 Progress reports will be sent home on Monday, September 13, 2021.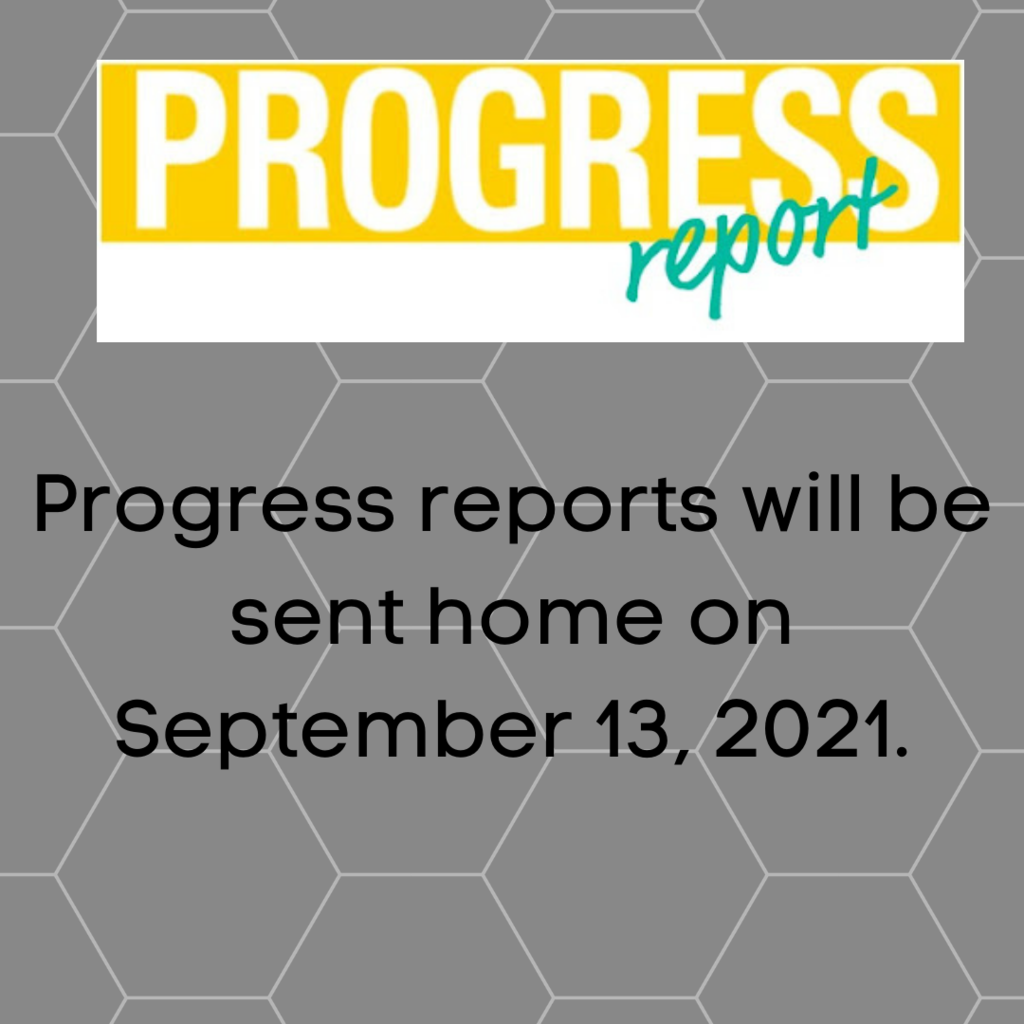 Week 3 - COVID Update Chart

Questions about learning during quarantine?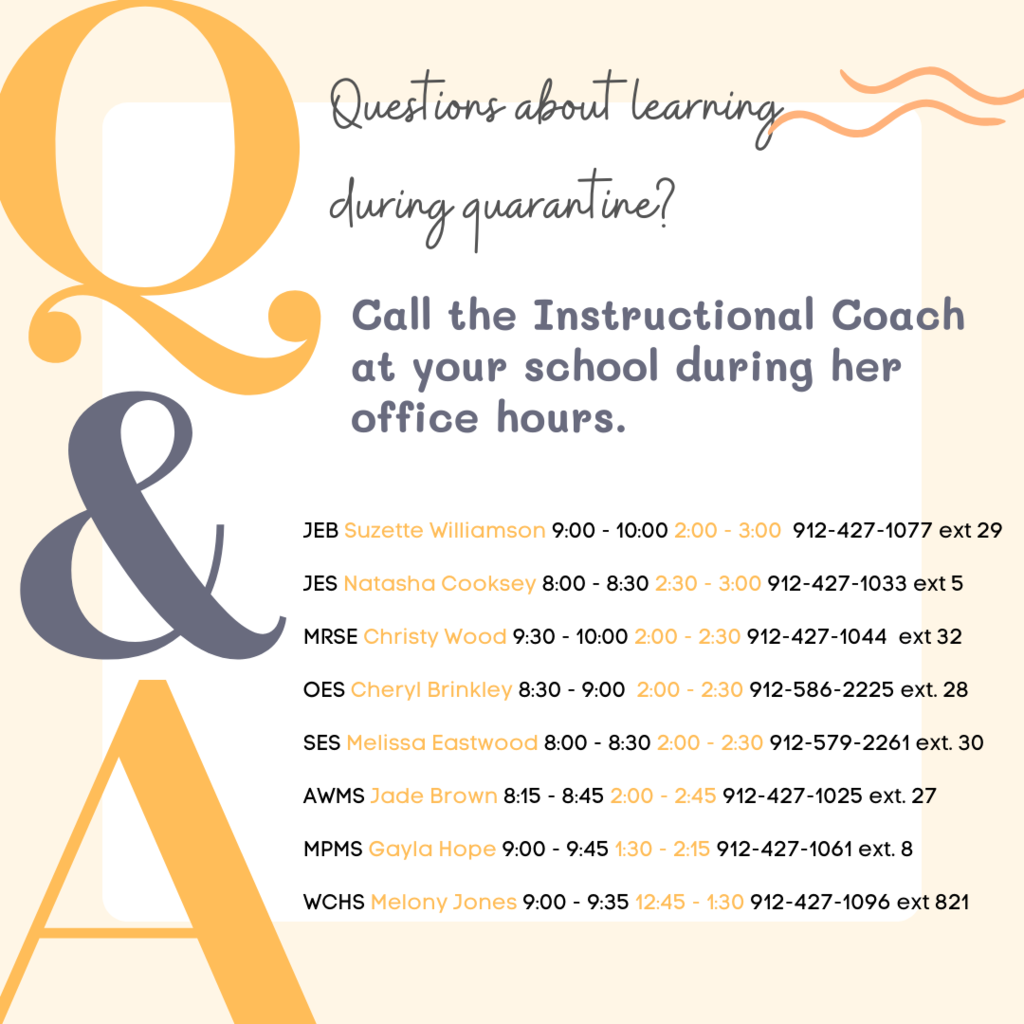 Week 2 - COVID-19 Update Chart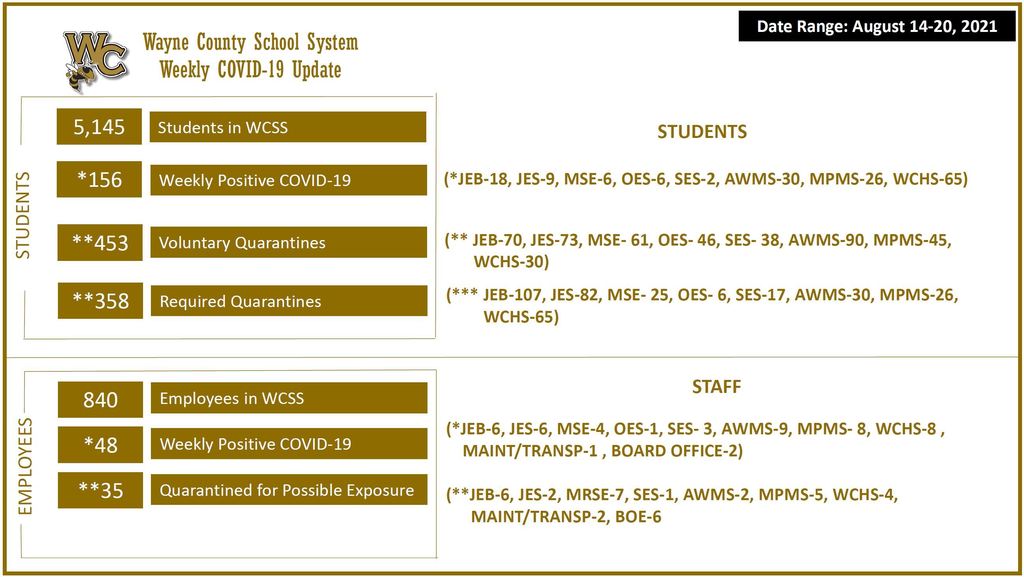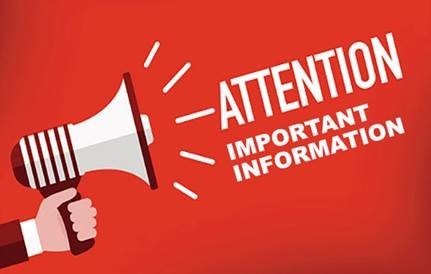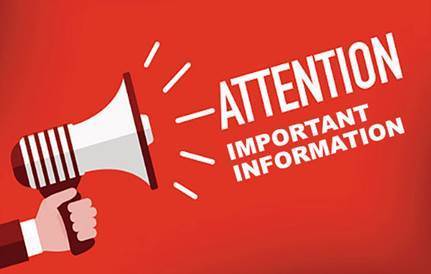 Week 1 - COVID-19 Update Chart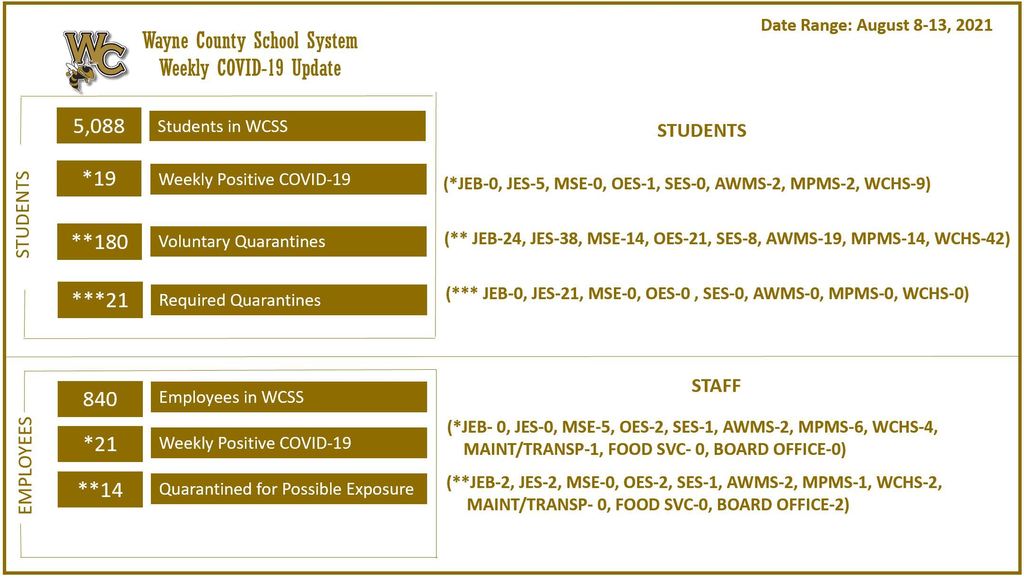 Parents/Guardians - If anyone in your household receives a positive test result for COVID-19 infection, please do not send your student(s) to school until the issued quarantine period is over for the positive case, unless the student(s) have been fully vaccinated for COVID-19. We understand that, at the current time, vaccinations for children ages 12 and under are unavailable and that this may create a hardship if someone in the home receive a positive test result. However, for the health and safety of all students and staff members, students who are not fully vaccinated would need to quarantine should there be a COVID-19 positive test result in the home. Please contact your child's school nurse for questions or guidance.

Please see the attached information regarding an update for the opening of schools.
https://5il.co/wq90

Reminder: Open House for all schools is Thursday, August 5, from 3:30 - 6:00 P.M. Masks or face shields are required for both students and other visitors. The first day of school is Monday, August 9. Students and staff will be required to wear masks or face shields. To keep students and staff as safe as possible, schools will be limiting access to persons who are not employees of the school system or enrolled as students.